The Best Hot Springs in the Banff Area!
Banff National Park is close to some spectacular hot springs, in the form of both developed and natural pools. We've compiled a list of the best spots in the surrounding Banff and Canmore area.
Soaking in a hot spring surrounded by snow-capped mountains and crisp alpine air is a True North experience.
Banff National Park offers an endless array of outdoor activities that work out your muscles and push your body to its limit. After a day of skiing, hiking or biking, there's nothing better than retreating to a hot pool known for its healing and muscle relaxing powers.
There are plenty of scenic hot springs in the Banff/Canmore area that are totally accessible by car. Venturing to these hot springs can be a lot of fun in itself, as many of the roads in Banff National Park provide incredible scenery. Along the highways, you will see mountains, beautiful forests, wildlife, waterfalls, marshes, and many other stunning sights – especially black bears, which are a common spectacle in the summertime along highway shoulders!
Whether you're looking for a clean, developed hot spring for where you can soothe your muscles, or a rugged, natural hot spring to check off your Canadian bucket list, we've compiled some of the best spots in and around Banff National Park.
1. Banff Upper Hot Springs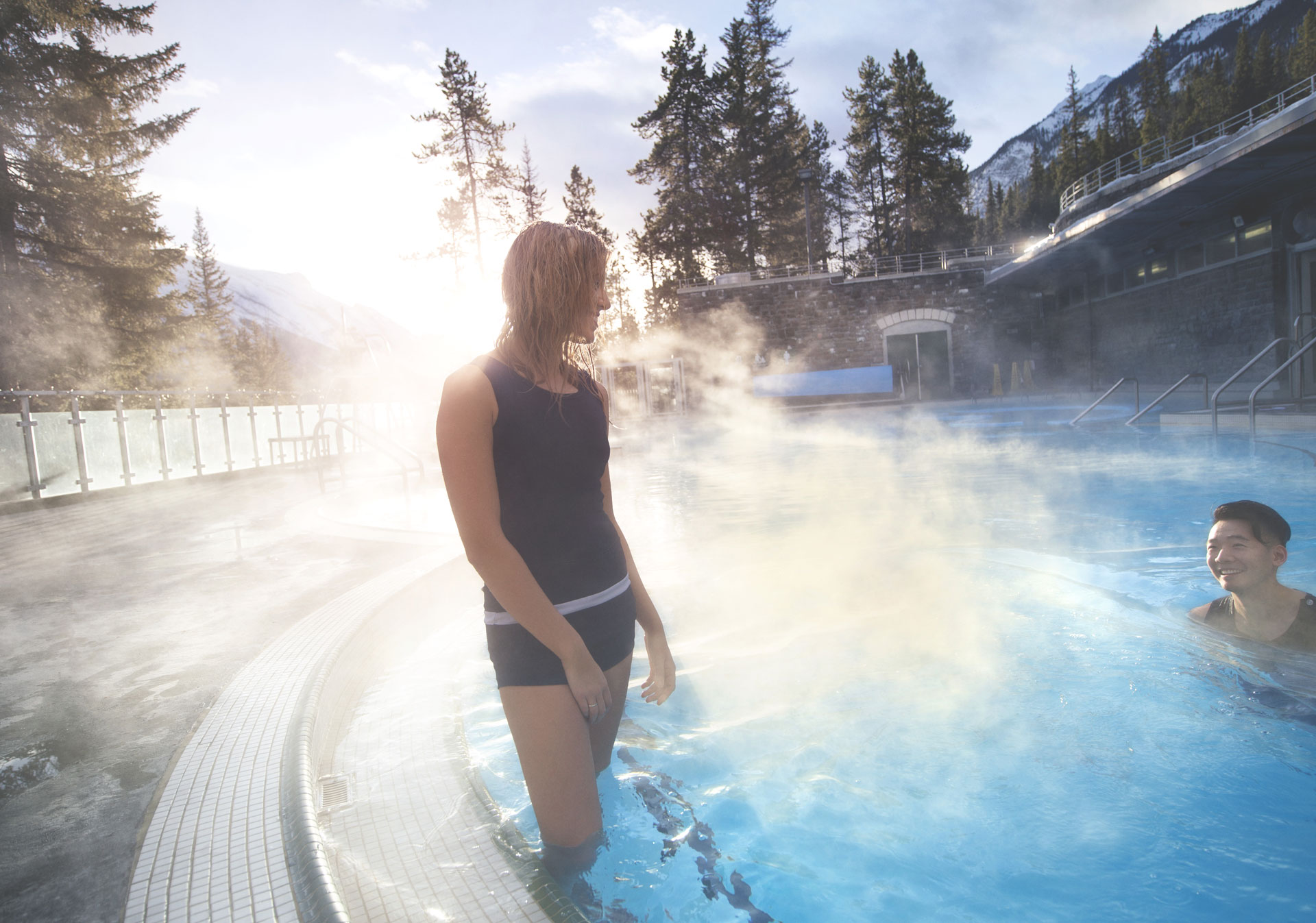 After a day on the slopes, or even a trip up the Banff Gondola, nothing soothes the soul (and muscles) like a soak in the healing waters of the Banff Upper Hot Springs.

These hot springs, after all, are Banff National Park's reason for discovery: a stumble into a steaming cave of mineral waters by an early explorer in the late 1880s led to the protection of the region and the eventual development of Banff National Park.
"Taking the waters" has long been a tradition of those seeking to soothe muscle aches and stiffness in joints and can be the perfect end to a day of Alpine or Nordic skiing, hiking, climbing or even shopping in Banff Town! The water is 100% naturally flowing, contains five soothing minerals and is kept at a toasty 37-40°C year-round.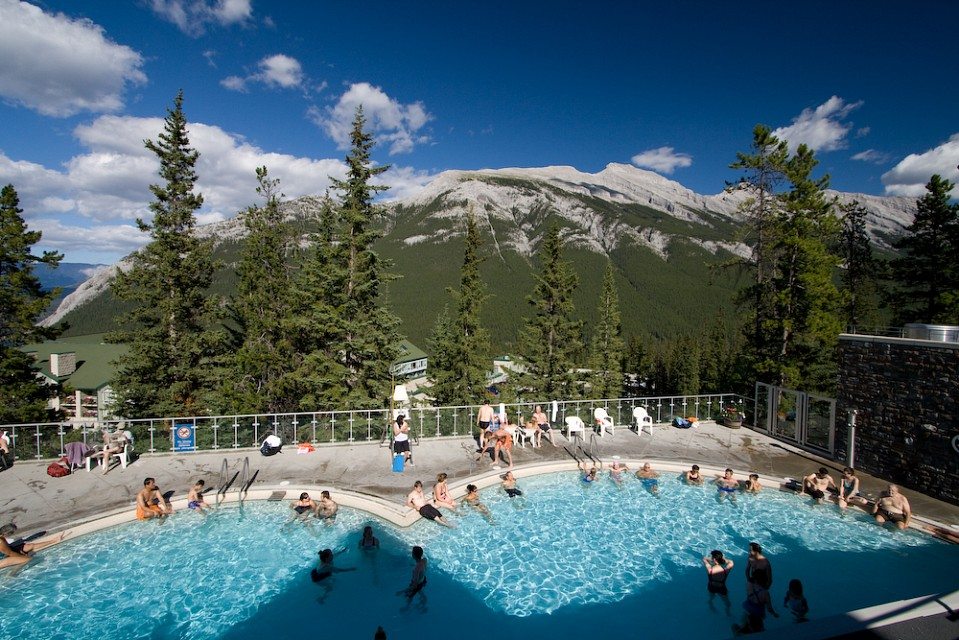 This hot spring is especially great because it's within the town of Banff and requires very little travel time. The Banff Upper Hot Springs are on Mountain Avenue, four kilometres south of the Town of Banff. Follow Banff Avenue over the Bow River and turn left (east) at the last set of traffic lights.+*

Follow the signs for 3.6 km to the Hot Springs parking lot at the end of Mountain Avenue.
Banff Upper Hot Springs Hours: Open every day, 10am-10pm except for Fridays and Saturdays when it's open until 11 pm
Address: 1 Mountain Ave, Banff, AB T1L 1K2
---
When you book with Leavetown you never pay Guest fees.
---
2. Fairmont Hot Springs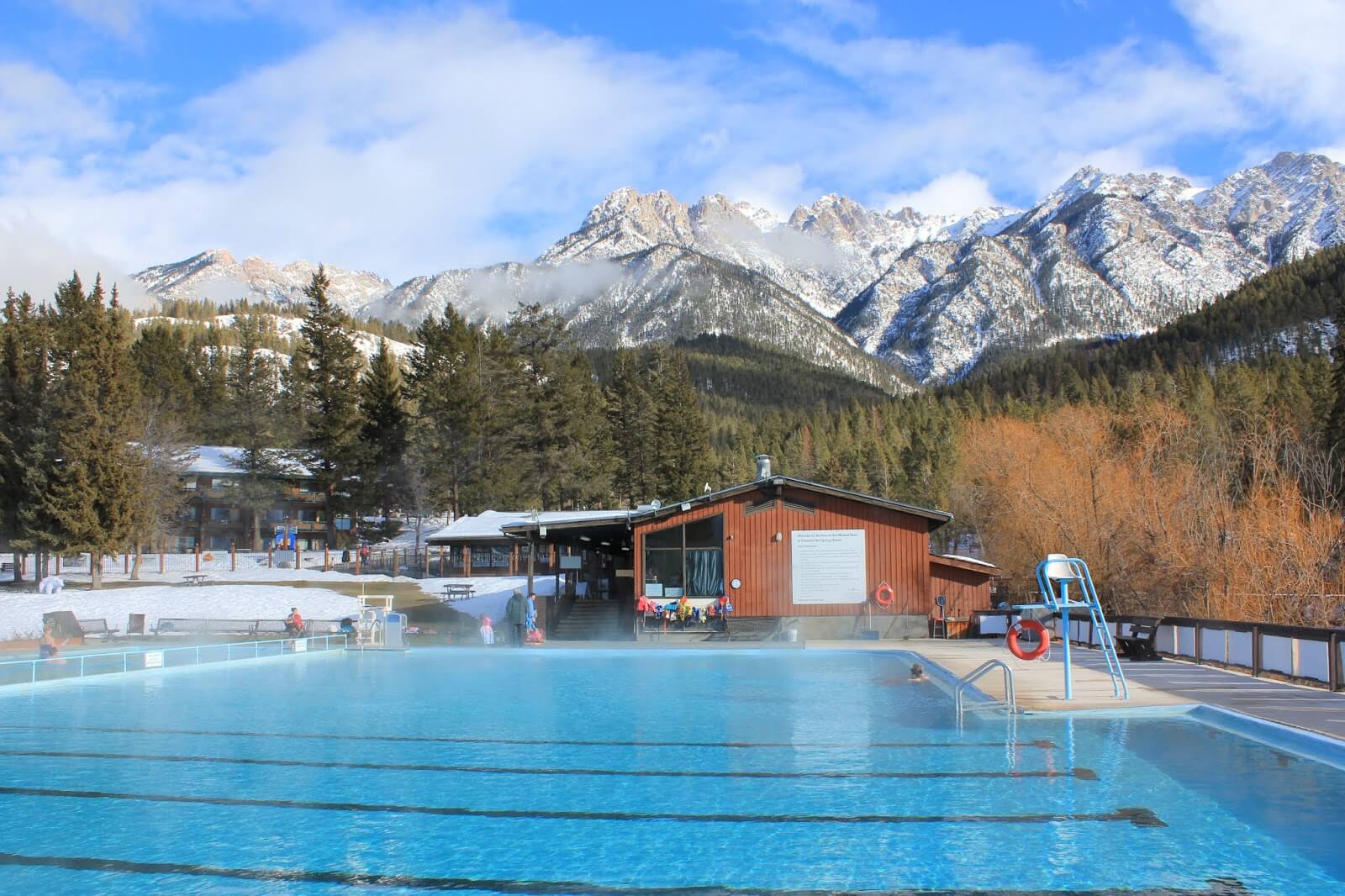 The Fairmont Hot Springs
are located 2 hours outside of Banff. They feature three different hot pools including a soaking pool at 102°F, a large swimming pool at 89°F, and a dive pool at 86°F. The variety of pools makes the Fairmont Hot Springs a perfect family day trip from Banff. Additionally, there is an 18-hole golf course and a relaxing spa on-site, making the Fairmont a great destination for a couples' trip. Guests can soak their tired legs after walking the golf course!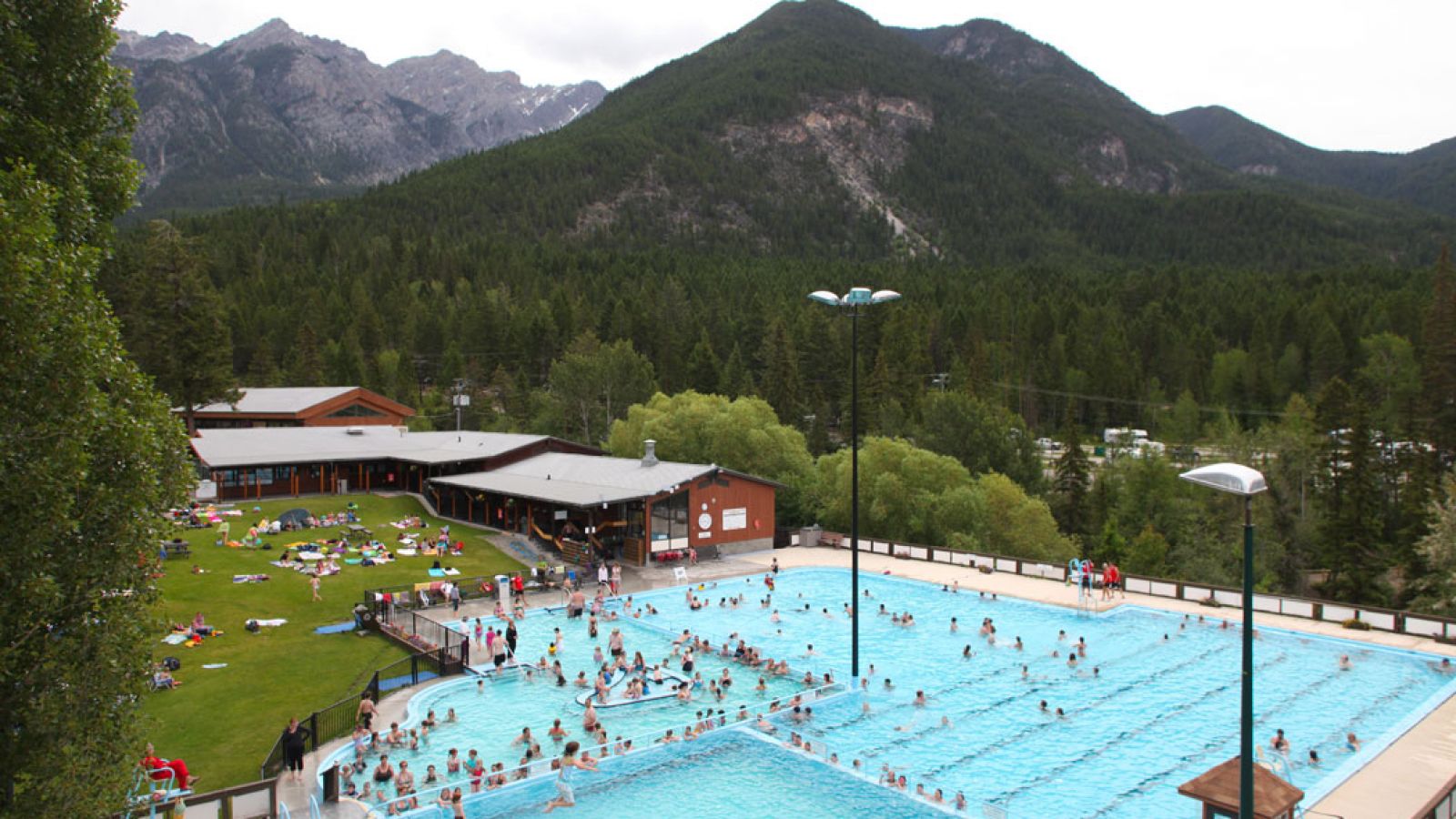 The resort is surrounded by panoramic views of the Canadian Rockies, and while it's located outside of Banff, the area has a rugged, natural charm. Those who are interested in taking a day trip from Banff or Canmore can take the scenic drive down Hwy 93, taking the exit onto Hwy 95 where the Fairmont Hot Springs is located on Fairmont Resort Rd.
Fairmont Hot Springs Hours: Open daily 8:00 am – 9:00 pm
Address: 5225 Fairmont Resort Road, Fairmont Hot Springs, BC V0B 1L1
---
Find the best family friendly accommodations in the Banff area with pools and hot tubs now.
---
3. Radium Hot Springs Mineral Pools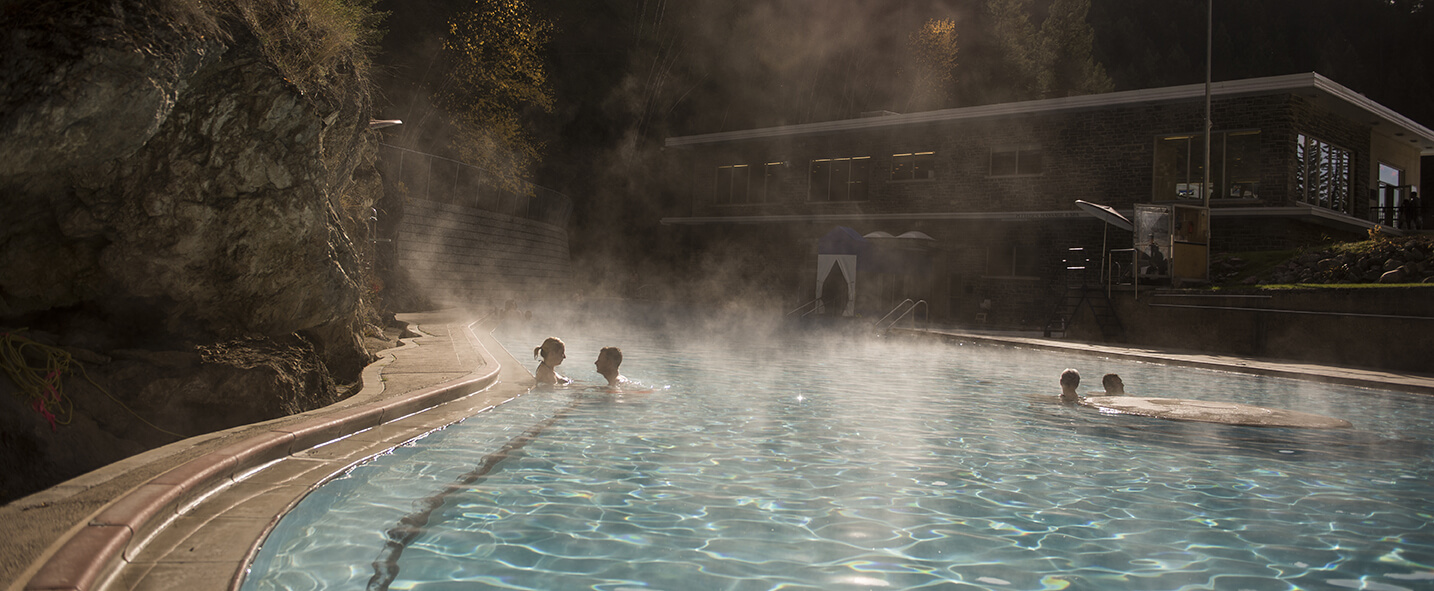 Surrounded by natural rock walls adjacent to a beautiful forested setting, these odourless mineral pools are a perfect way to soak, recharge, and relax. Radium Hot Springs is home to Canada's largest mineral hot springs pool and is complemented by a cooler swimming pool on-site. The hot pool's temperature ranges from 98 to 104°F and contains sulphate, magnesium, calcium, silica, and bicarbonate. Pair a day of soaking in the hot springs with wandering the old town of Radium where many of the establishments are from the post-WW2 era.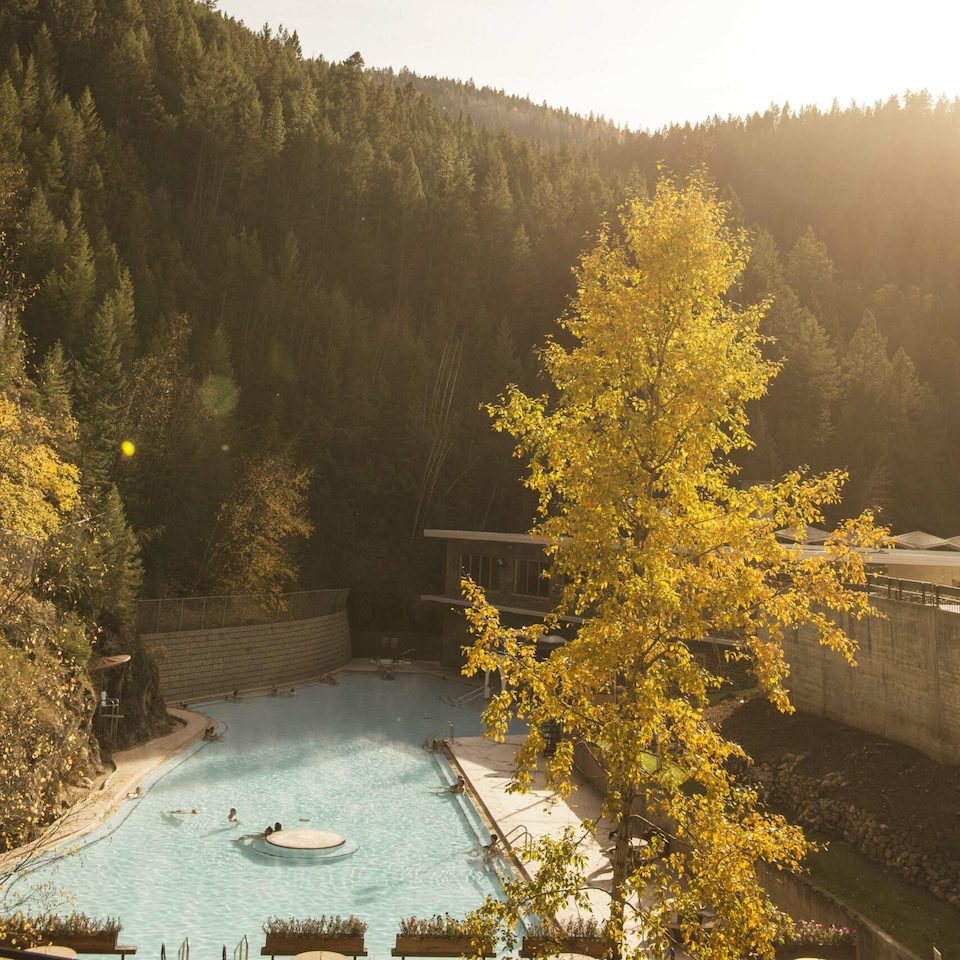 Radium Hot Springs is just a short 1.5-hour drive from the Banff/Canmore area down Hwy 93, making it an easy day trip to enjoy a scenic drive, visit the small town of Radium Hot Springs and additionally soak in the beautiful and relaxing mineral pools!

Radium Hot Springs Mineral Pools Hours:
October 11 – May 18
Monday to Friday 1:00pm to 9:00pm
Saturday and Sunday 10:00 am to 9:00 pm
May 19 – October 9
Daily 9:00am to 11:00pm
Address: 5420 Highway 93, Radium Hot Springs, BC
---
4. Lussier Hot Springs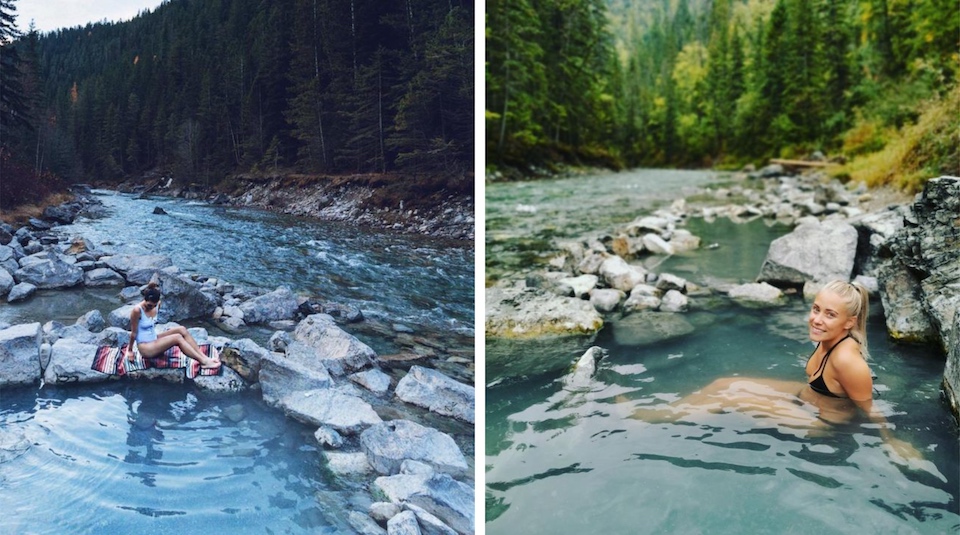 These undeveloped, natural hot springs are tucked away beside the Lussier River in Whiteswan Provincial Park. These hot springs are for those looking for an outdoor adventure, as you must drive up a gravel road for 18km, park, and walk the remainder of the way there until you end up at Lussier River. However, once you get there, you will feel a sense of adventure and peace that just can't be achieved by visiting a commercial hot pool. Because these hot springs are in a completely natural setting, there are strict guidelines which must be followed when visiting. Please be aware that bathers must wear bathing suits at all times, and alcohol and dogs are not permitted in or around the hot springs area. There are convenient change rooms and toilet facilities in the parking lot, as well as garbage cans to dispose of any trash properly.

Consider bringing a water bottle with you to keep yourself hydrated, and to rinse the lingering sulphur smell off you once you are done. This will surely be an unmatched natural experience!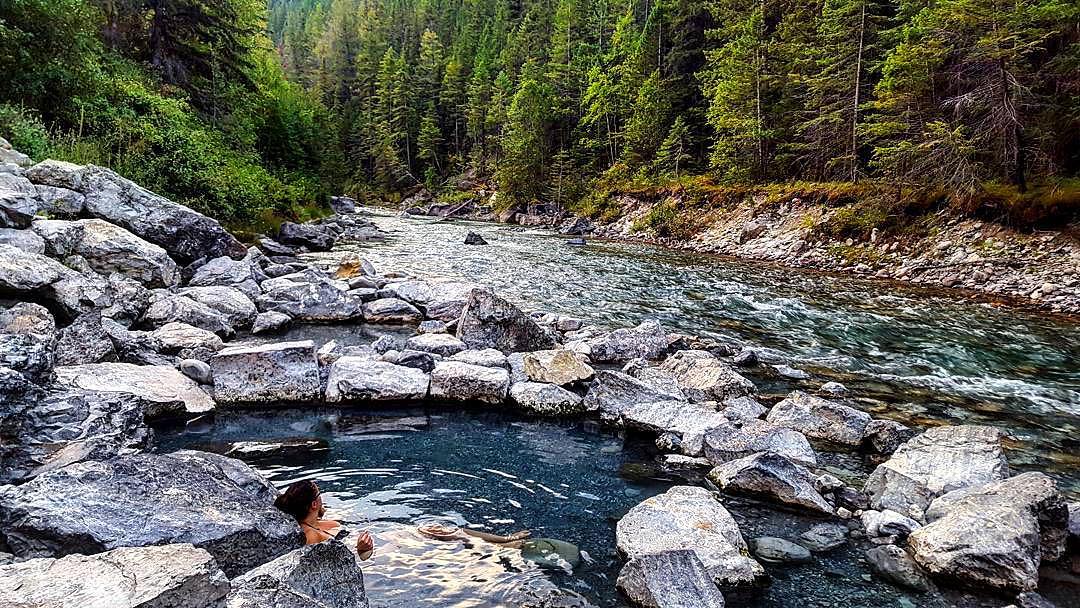 Lussier Hot Springs can be accessed via the Whiteswan Forestry Road, which intersects with Highway 93/95. This is a longer excursion as it is roughly 3 hours outside of the Banff/Canmore area. But like we mentioned before, it's a perfect adventure for those looking to explore Canada's natural beauty and sights!
---
PLANNING A VACATION TO BANFF?
We offer a number of great accommodations in Banff that can be booked online, ranging from hotel rooms to fully-equipped vacation rentals. Or alternatively, call our highly knowledgeable Destination Experts who can answer any questions you may have about hot springs near Banff, or other things to do in the park.